Erin & Chris planned a lovely and relaxed wedding day experience for their immediate family and closest friends who joined them in celebrating their love for each other.  These two took a "no muss, no fuss" approach to their wedding day and enjoyed a long engagement so that the details could come together perfectly.
The day began at Hotel Rafaello with mimosas and a lot of hugs as everyone greeted each other and settled in.  It was special that Erin's maid of honor helped her with hair and make-up, and these two shared some special getting ready moments together. The bride wore a handcrafted flower garland in her hair and spaghetti-strap gown with intricate ribbon, beadwork and just the right amount of sparkle. Chris was in navy blue and his guys wore grey vests and enjoyed taking some portraits together outside of the hotel as they waited.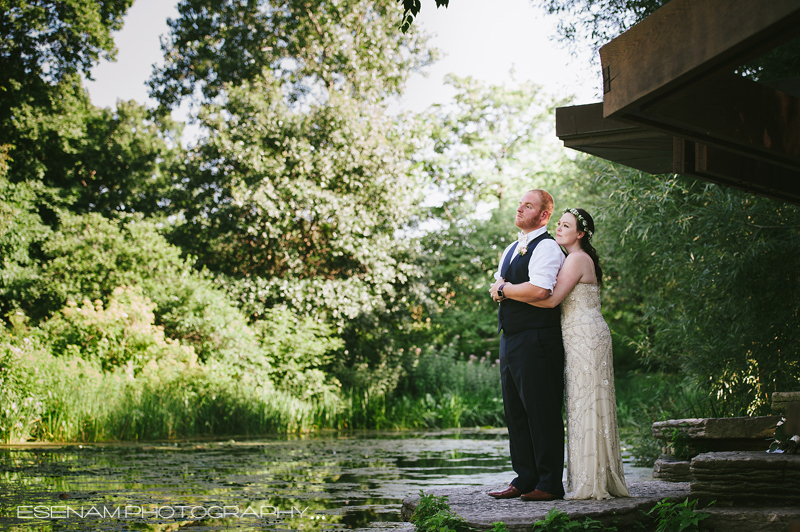 What a beautiful morning at the Alfred Caldwell Lily Pool, with the reflections dancing on the water and trees shading the ceremony location.  This spot complemented the couple and gave the feel of a secret garden hideaway; amidst the hustle and bustle of busy Chicago, it was quiet and serene as the groom walked arm-in-arm with his parents down nature's pathway to the Pavilion at the water's edge where he then saw the bride and her proud father walking toward him.  The ceremony contained non-traditional elements such as smudging with sage to purify the space, and the drinking of wine.  I had my own non-traditional experience, as well, when a disgruntled wedding guest flew at my camera – this blue heron did not want to share his post on the rocky outcropping (the perfect spot for an across-the-water, wide-angle shot) with me.
We were able to take some portraits at the Lily Pool before boarding the trolley and having some fun in transit around the city.  As we took pictures atop a bridge, passengers below on The Lucia waved, cheered, and celebrated with the couple. We made our way to the reception at DiSotto Enoteca which was tasteful and comfortable. What a great Italian hideaway with miniature realistic life scenes built into the brick walls and tasteful displays of bruschetta, prosciutto, and wine.  There was a special connection felt by all of the guests; as dinner was served, there were heartfelt, emotional speeches and reactions.  The location made it possible for a small group of the wedding party and family members to take an end-of-the-night walk toward the lake where we saw the Navy Pier fireworks popping in the distance, a pleasant surprise for this day which was filled with so many beautiful, natural, and emotional moments.  In the end, we are left with the memories and the images to tell the story that Erin and Chris spent the day with the people they love and celebrated what was most important to them in their own special way.
Cheers!
Esenam