Posts Tagged 'Chicago Wedding Photographer'
Abby and Paul's wedding celebration in the Chicago suburbs was elegant and fun, and we had a lot of time to captures some memorable images.  To begin the day, Paul, his dad, and the quick-witted groomsmen and ushers laughed, joked, drinked, and joined hands in a show of solidarity as the groom readied himself (and others) for the day – after all, who but Paul could tie a perfect Windsor knot?  No one.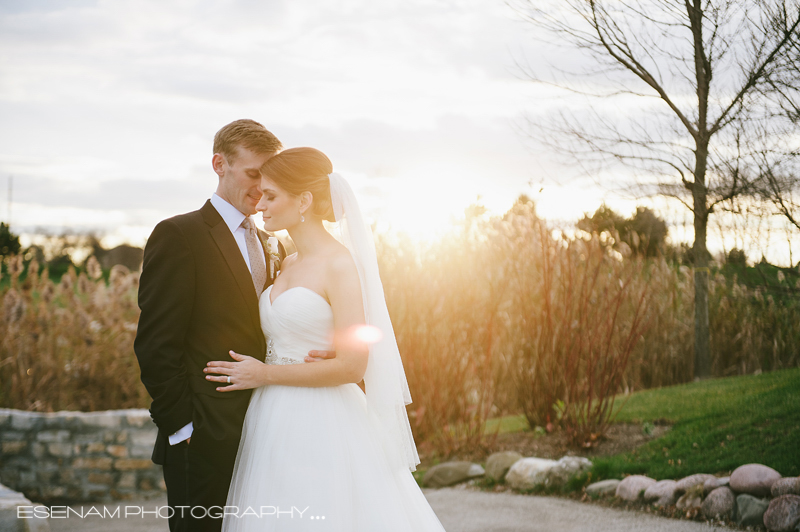 Meanwhile, Abby and her ladies got ready at her childhood home, and the flower girl's reactions to seeing her in the dress for the first time can be summed up in one word:  awe.  The bride and groom came together for a first look in the yard outside the church, and I think that their expressions and playful interactions made for a special time for the two of them to be together before the ceremony (with family members looking on and taking pictures, of course).  We were able to take many of the family shots before the ceremony, something that helped us to save time later on for more pictures on the golf course at Makray Memorial Golf Club.  And these images were some of my favorites, with the sun setting and the couple and bridal party members interacting with each other and being such good sports about the cold.  The night ended with heartfelt toasts, enthusiastic dancing, and a lot of good cheer.  I hope that you enjoy these images!
Cheers!
Esenam
This Chicago engagement picture session with Linda and Rodney occurred within weeks of their wedding  earlier this fall. It was still a great opportunity to get to know them and witness their affection for one another. We were able to go to some familiar and not so familiar portrait locations.
The lincoln park is just big and versatile enough to feel as if we were in a different state altogether. The lakeshore view as well as the skyline  of the city never disappoint though. The surprise for me was the discovery of  12th Street Beach located  north of the Northerly Island Park and south to the Adler Planetarium.  Yes, although I have been to The Adler Planetarium a number of time, my adventures never took me on the other side of the building. And so, discovering a small beach there was actually à propos. By then, the light was dimming and I was chasing it, looking for enough natural light to expose my subjects. I will certainly return to the area for more exploration in my constant search for inspiration. Enjoy!
Cheers!
Esenam