You may remember Genevieve and Alex from their engagement session last fall.  Their recent wedding was celebrated in small town Sycamore at St. Mary's Church and then had an  Acquaviva Winery Wedding with many dear family members and friends.  As we remember this special day, we recall feeling so welcomed by guests and family members as well as vendors.
We couldn't have asked for a nicer and more down-to-earth couple who laughed, cried, and made great images throughout the day. Genevieve was able to incorporate so many treasured locations in and around Sycamore into her wedding day.  Her parents' home where she got ready was picture-perfect, and the outdoor gardens (a spot traditionally used by family to document events with photographs) made a perfect backdrop for portraits.  While the bride-to-be was getting ready at home, Alex met his guys at the Jane Fargo Hotel, debated between black or white bow tie and cummerbund, and revealed his theme for man-gifts:  knives.  Only one man was injured in the making of this memory.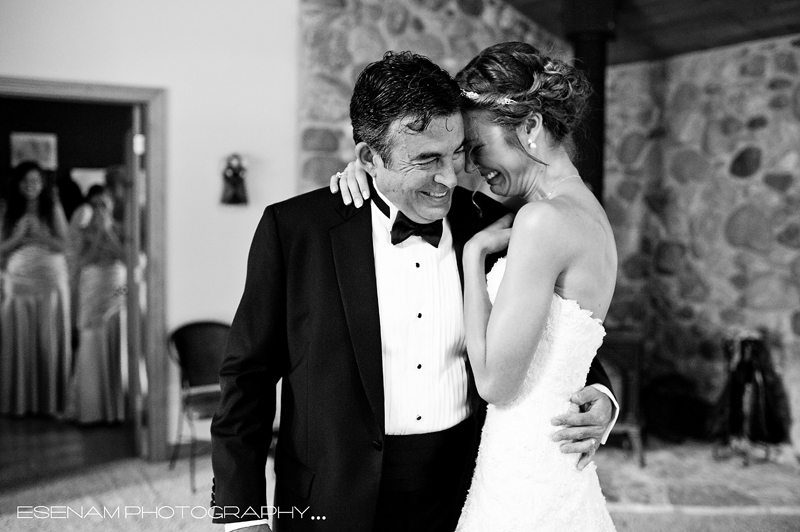 After seeing a joy-filled wedding celebration with a beloved priest, the night commenced at Acquaviva Winery, known for its ambiance and incredible food which did not disappoint the guests.  Luckily, there was an afternoon lull in the thunderstorm-filled day which allowed us to spend time in the vineyard taking photos.  You'll see some great images below, but a couple of my favorites involve father-daughter interaction, as these two share a strong connection, and first dance between bride and groom with floor-to-ceiling views of Acquaviva's grand entrance.
Cheers!
Esenam