Kyle and Nisreen, wed in a small Chicago Cultural Center Wedding with immediate family members witnessing their vows.  The day was intimate and private as we visited treasured locations to shoot their images. We began early in the morning, working with ideal light on a hot summer's day.  Before their ceremony at the Cultural Center, we had already visited Oak street beach, LaSalle Street, and the Kinzie Street Bridge.
This well-known bridge happens to sit across the river from the Chicago Sun Times building where Kyle's late grandfather worked.  We were able to take a special image with the Sun Times name in the background, a tribute to his grandfather which I was able to later show to his grandmother after the ceremony.  And, of course, everywhere we went, Nisreen's vibrant yellow dress alongside Kyle's sleek navy suit caught the eyes of passersby.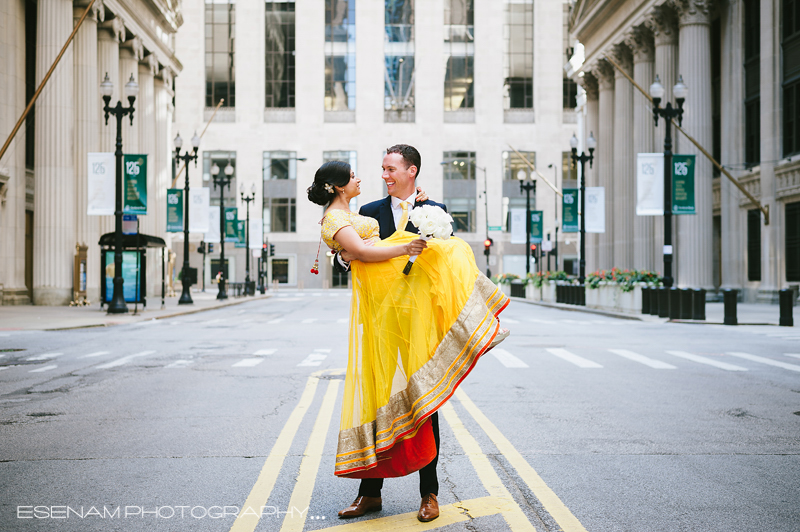 The Chicago Cultural Center Wedding was very short. On that particular day, they were about a dozen couple getting married in civil ceremonies. The atmosphere was joyous, diverse and slightly felt rushed for all the couples.
For us, the day ended at the luxurious Waldorf Astoria where the two families dined together, reminisced, tried their odds at scratch and win, and dined from the couple's hand-selected menu. This is definitely a day to remember, and as if we needed an encore, a few weeks later we met again for a post-wedding session in the City. Enjoy!
Cheers!
Esenam
Chicago Cultural Center Wedding | WEDDING & ENGAGEMENT INQUIRIES