Monali and Ashish's traditional Indian wedding took place at the India House in Schaumburg, Illinois on a bright July Saturday starting very early in the morning. Hindu weddings are not conscious of the clock, are full of symbolic ritual and tradition, heartfelt oaths, and outstanding colors.  This day was no different from the last two I spent documenting The henna rituals at her family home, leading to the Wedding day itself, and I'm glad to have captured some stunning, candid wedding day photos.
Indian Wedding Photography Chicago means rhythm and culture. The Jaan arrival of the groom was lively and fun-filled pomp and circumstance as his white horse and carriage sat at the ready and the wild beats of an Indian dhol player echoed across the parking lot.  Ashish, riding in the carriage, was preceded by his Barat, a dancing entourage of family members and friends to announce his arrival.  As they moved closer to the ceremony location, the groom and his father danced side-by-side as they were met by the bride's parents and other family members and friends who encircled the dancers and cheered them on leading up to a formal reception of the groom and his family at the door of Schaumburg's India House.  As Ashish passed through the doors, in a humorous exchange, his shoes were kidnapped, which his family members bargained to get back after the wedding ceremony from the "thieves" who were determined to get a substantial ransom.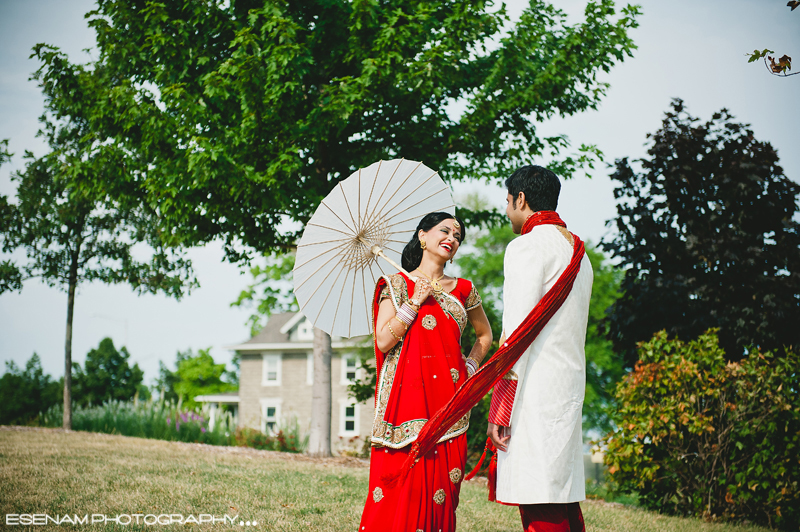 The ceremony itself lasted several hours, so long that the guests in the audience were served food while observing.  Monali and Ashish were joined by their families and priest under a beautiful Mandap and led in a series of rituals involving rice, fire, a coconut, and thread joining the two as one. To highlight, one of the most meaningful rituals involved seven steps of commitment asking for blessings, health, spiritual fulfillment, happiness, and peace. Another meaningful and emotional portion of the ceremony asked married women to enter the Mandap to whisper advice and blessings in Monali's ears.
When the ceremony was over, there was an emotional farewell to Monali by her family which represented her leaving the care of her parents and brother to become part of Ashish's family. There was not a dry eye as goodbyes were spoken and Monali's luggage was loaded into the limo.
With the morning festivities ended, everyone took a break and changed into evening attire.  We slipped away with the bride and groom for a few photos, and India House underwent a complete makeover.  The evening's festivities involved video footage, performances, speeches, and dish upon dish of delicious Indian food.  After guests had eaten their fill, some of the best and most energetic dancing I've seen commenced. Enjoy!
Cheers!
Esenam