I'm excited to share the last installment of Pinky and Donny's Chicago wedding at the Rookery.  On Memorial Day weekend, with wedding season in full swing, Donny and Pinky continued to amaze me with their ability to do what came naturally to them.  This is the focus for my work with couples – the more I can fade into the background, the more the couple's love and natural affection are showcased in their images.  I would like to credit Donny and Pinky's ease in front of the camera in part to that brave and cold March engagement session that "warmed" them up in front of the lens, but perhaps they are just naturals.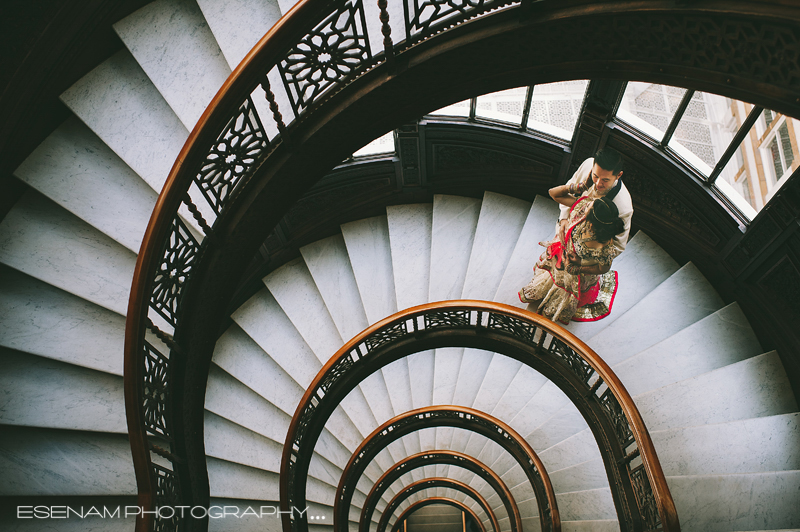 Below, you'll see some colorful images documenting the traditional Indian wedding at the Rookery, a celebration that transformed The Rookery balcony and stairs into a grand entranceway to a beautiful crimson Mandap.  Surrounding the couple, guests who had earlier seen their Catholic wedding ceremony at St. Ita's saw them take vows committing themselves to each other and to their families to love honestly, be each other's strength and courage, and serve each other.  These vows, taken by circling the sacred fire are one of the meaningful parts of the elaborate ceremony which involved friends and family members in the giving of gifts and well-wishes for the couple.
I think that this fusion wedding honored and respected both family traditions, and it was a great experience for the guests to join together and celebrate, deepening their connection to each other and making new friends, as well.
Cheers!
Esenam
Wedding at the Rookery | WEDDING & ENGAGEMENT INQUIRIES