Jessica and Bradon's Tiscornia Park Wedding was everything a destination wedding should be: personalized, laid back, and memorable. The town of St. Joseph Michigan is a hot spot for tourists, and one doesn't have to walk far before the charming shops and sandy beaches have a calming effect.  The hustle and bustle of Chicago?  Gone.  All that remains is to enjoy the moments, which is exactly what this couple and their close friends and family did.
On the wedding day, while the bride and groom readied themselves at the hotel, the bride's father and other family members gathered to assemble a hand-crafted altar at the ceremony site. A lot of love and thought went into this endeavor, and the end result was stunning, allowing the bride and groom to have their own special spot on the beach that day with the blue waters of Lake Michigan just ten feet away. As the guests arrived, the bride and groom arrived soon after, taking time to mingle and converse and making sure the flowers and all of the details were ready to go.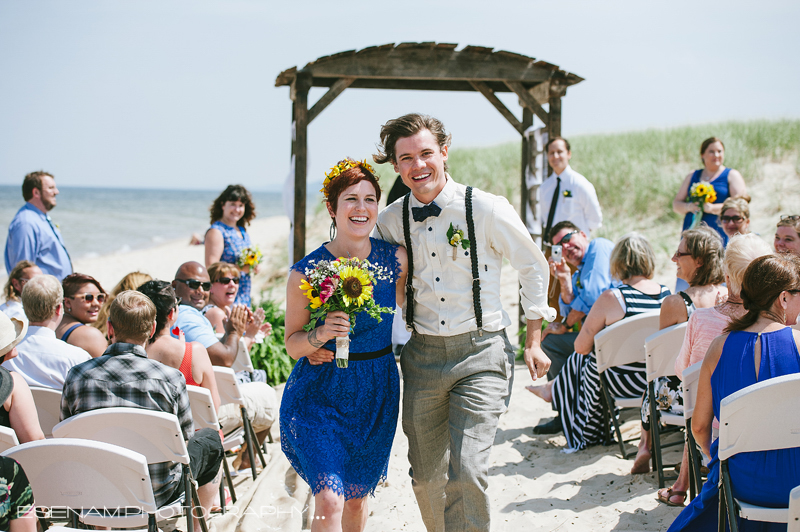 The bride wore a non-traditional blue dress with sunflowers in her hair and held a vivid bouquet. The groom wore suspenders and a bow tie. They were the epitome of down-to-earth and carefree on their wedding day, taking time to pose with a random rake stuck into the sand in "American Gothic" style, finding humor in a vigilant beachgoer's warning to "not step on the dune grass" on the way to the altar, taking time to savor the wine during the ceremony in sommelier-style, and leisurely wading in the water and along the white sand as we captured images after the ceremony. Where were guests after the ceremony? They stayed to talk and later left to enjoy the couple's gift of craft beer as they freshened up for the reception.
The reception at Mill Creek Barn was rustic, yet tastefully decorated. White lanterns crowded the ceiling and small touches such as customized place cards and handcrafted banners gave a unique vibe.  The bride and groom took time together as we captured portraits around the barn, and guests were entertained with games on the lawn outside and in the photo booth.  Jessica and Bradon carefully chose their vendors for the evening. Their Toast and Jam event DJ moved the night along, providing just the right ambiance, and the Organic Gypsy food truck was on-site to serve guests customized and made-from-scratch dinner options which were made from locally-sourced, organic vegetables and grains. Enjoy!
Cheers!
Esenam
Tiscornia Park Wedding | WEDDING & ENGAGEMENT INQUIRIES