Recently, I had the honor of an encore.  Soon, I will share with you the images from Nisreen and Kyle's Fusion wedding coverage that extended to many well-known Chicago landmarks.  We began the day early knowing that the harsh sunlight of the afternoon was not ideal for a rather ambitious location-focused tour of Chicago.  In doing so, we were able to go from beach to LaSalle Street, up and down Michigan Avenue before and right after the ceremony at the Chicago Cultural Center.  The day quickly passed, as all wedding days do, and some of the locations on the wish list did not make the cut.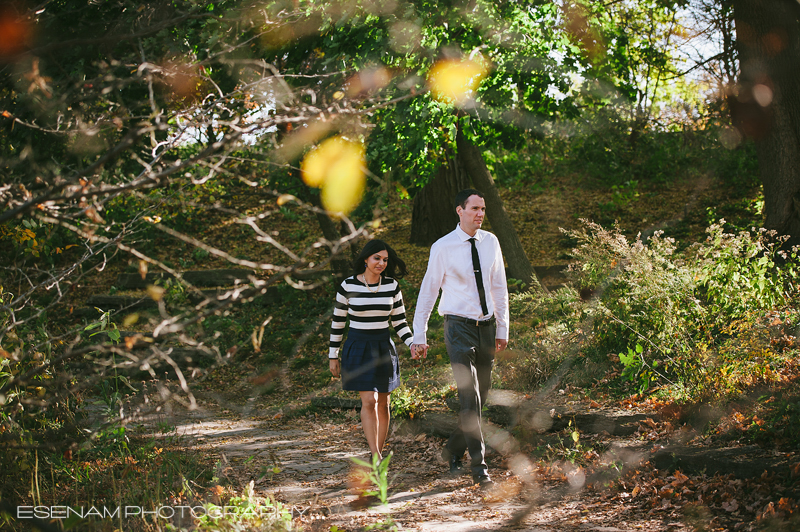 When I first met these two, they were kind, focused, funny, and a little bit mysterious.  I liked them right away.  And I liked them even more after working with them on their wedding day.  That's why, when they asked if I would be willing to shoot an encore session at some other Chicago locations, I was so excited to spend the day with them again.  They were so kind and accommodating as the wedding season ended and scheduling was hectic, but we were able to meet on a bright October day for more fun.
I feel like Nisreen and Kyle are in their element for this photo shoot.  You'll see that I've worked to use framing and leading lines to draw your eye toward Nisreen and Kyle.  They are a classic and classy couple, and I think that the juxtaposition of their body language, interaction, and outfit selection pop against nature's canvas of the lincoln Park and the Alfred Caldwell Lily Pool.
Cheers to you, Kyle and Nisreen, for this encore!
Cheers!
Esenam