Almost a year after a memorable winter engagement session, October was not too hot, not too cold, and just right for Jessica and Daniel's Balmoral Park Racetrack Wedding celebration at the quaint St. James Catholic Church. The bride and groom's tender moments with their mothers and during their first look time together before the ceremony set the tone for the day, one of togetherness and love.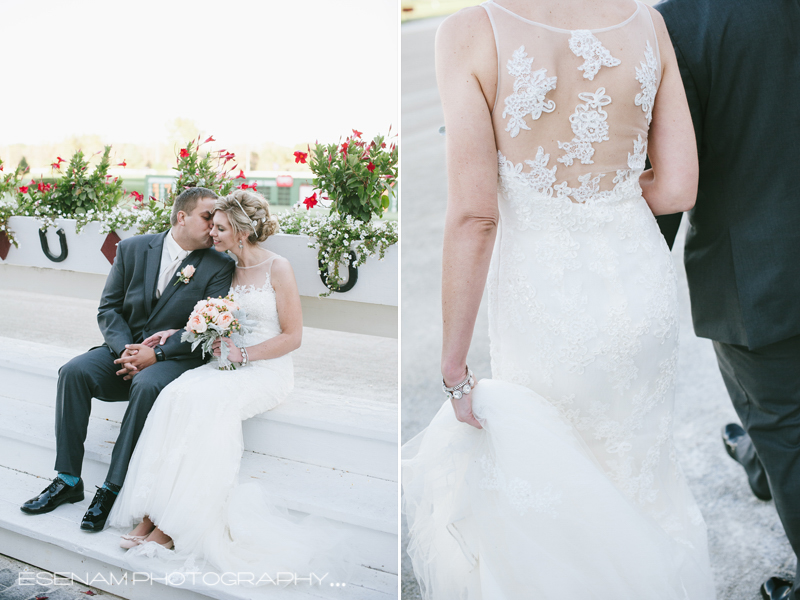 But before anything started, the groom had to follow a fun Polish Wedding Tradition and provide gifts, in this case in the form of Vodka to the bride's father and uncles, who accepted the offering with laughs and open arms. The couple later on received more family blessings before heading out together for the ceremony. And nothing says togetherness and love better than a chartered yellow school bus filled with their best friends, bridesmaids and groomsmen celebrating in jubilation for the couple as they rode to Balmoral Park Racetrack for the reception where hundreds of pink roses adorned the third floor reception tables, and guests mingled with an air of excitement while the couple and their bridal party had fun roaming – down on the track and on the grounds – for portraits.
During the reception, after enjoying authentic Polish food, dancing, and drinks, the couple played a "shoe game" designed to see who had the better answer to questions about their relationship such as "Who will be doing most of the cooking?" and "Who said 'I love you' first?"  This game and many other little, tasteful touches customized the wedding and made it a special celebration to remember. Dzięki!
Enjoy!
Cheers!
Esenam
Balmoral Park Racetrack Wedding | WEDDING & ENGAGEMENT INQUIRIES