After such a wonderful time with Margaret and Blake during their Chicago engagement session, I left anticipating their fall Beverly Country Club wedding celebration. I knew that we took a great set of images together and that we would have time to relax and do the same on their special day. These two were such a great couple to work with, and they planned such a lovely experience for their guests. We began at the Union League Club where Margaret and Blake spent time with their bridal party and family members who gave moral support and set a fun, relaxed tone to the day.  Margaret was able to read a heartfelt message from her groom and share some tender mother-daughter moments.  And, of course, all of the girls gathered around to see and appreciate her dress and how lovely they all looked in their icy blue dresses and brightly-colored bouquets.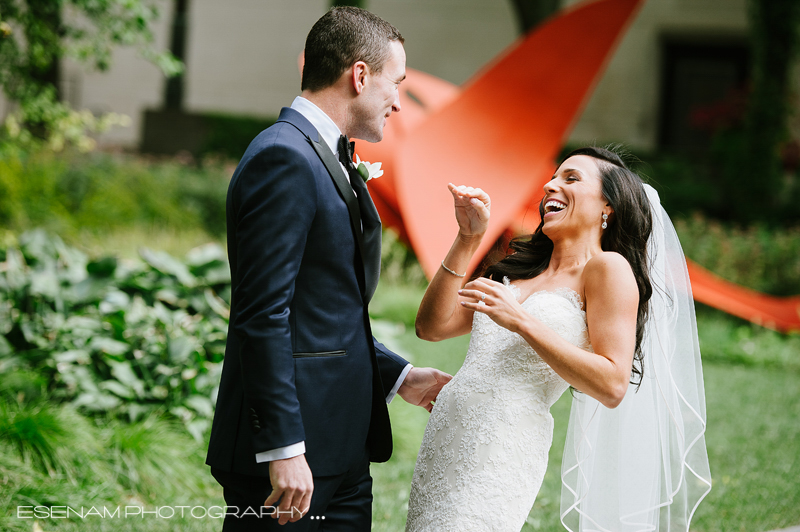 After getting ready, we went to a first look at the Art Institute gardens which allowed the couple to come together and share some special moments filled with laughter and smiles before the ceremony.  Then, we took some dramatic shots along LaSalle Street with the couple and bridal party members.
The stained glass windows at Christ the King let in waves of natural light which created dramatic shadows as the beaming bride walked down the aisle with her proud father.  At the altar, the couple only had eyes for each other as they proclaimed heartfelt vows. After this, the wedding reception night ended perfectly for this Beverly Country Club wedding, where there were so many heartfelt moments with toasts, words from the bride and groom to their guests, dancing, and a sparkler send-off into the night. Enjoy!
Cheers!
Esenam
Beverly Country Club wedding | WEDDING & ENGAGEMENT INQUIRIES