Mackenzie and Keith's Chez Wedding in Chicago was every bit as classic and elegant as the venue itself, named in homage to the Chez Paree, a famous Chicago nightclub epitomizing glamour and entertainment.
With all of the rain in Chicago this spring, I was glad to see the cloud cover blanket the city on this afternoon, making the perfect soft box for pictures in the Art Institute Gardens and on the Magnificent Mile by the Tribune Tower. The couple was very authentic and emotional as they saw each other for the first time, and I enjoyed capturing the moments as they teared up and exchanged kisses and presents.  The bride's silver bracelet was the perfect compliment to her teardrop earrings and sleek Justin Alexander mermaid bateau dress, and the pair looked lovely and in love. The bridal party, alongside the couple, wore traditional colors and styles.  The bridesmaids, in classic navy blue, held bouquets of romantic white and blush-colored peonies while the groom and his men wore complimentary grey.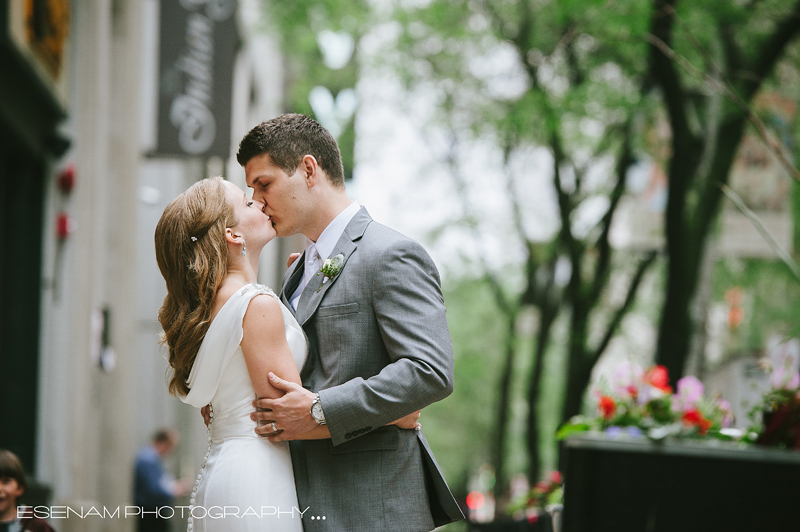 The ceremony at Chez was both beautiful and meaningful; a best friend of the groom served as officiant, and several friends and groomsmen performed songs as the couple participated in a wine unity ceremony and exited as husband and wife.  The classy venue was ensconced in elegant wings of white fabric which draped to create an intimate ceremony space, and the couple opted for clean and simple flower arrangements and warm candles to compliment Chez's 17-foot loft ceilings, glossy concrete floors, bold glass staircase, and modern drop lighting.
Apropos to the Chez tradition, the bride and groom took their place as musicians in a long line of past performers such as Frank Sinatra, Louis Armstrong, Nat King Cole, and Ella Fitzgerald.  After their first dance, they thanked family and friends before serenading the crowd with a duet – Keith on the piano accompanied by Mackenzie's vocals.  Everyone loved the performance, the night, and, of course, the venue which served as a backdrop to it all. Enjoy!
Cheers!
Esenam
Chez Wedding | WEDDING & ENGAGEMENT INQUIRIES